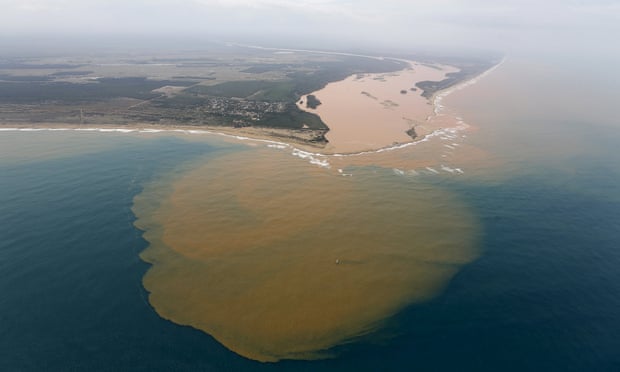 International – In the Brazilian state of Espirito Santo, mud and mine waste has now reached the coast, following the collapse of the Fundão dam at the Samarco mine two weeks ago.
According to Joca Thome, coordinator of the national marine conservation organisation, Tamar, "it looks like brown gelatin spreading out to sea."
It has been estimated that the tide could spread by up to 9 km along the coastline, threatening the only regular nesting sites for the endangered leatherback turtle.
According to a report in the Guardian, 50 m3 of residue has worked its way down the Rio Doce river since the accident at the Fundão dam on 5 November.
The Fundão dam disaster has led to the national water agency, ANA, banning the consumption of river water by humans, and many thousands of residents are still dependent on bottled water to meet their daily needs.
Samarco has already agreed to pay for clean up and compensation to the tune of US$250 million.  Additionally, a fine of US$66 million has been levied by the federal environmental agency Ibama.
BHP Billiton and Brazilian company Vale, joint venture partners in Samarco, have been working with local fisherman to install protective barriers along the Rio Doce estuary, along with widening the mouth of the river in the hopes that the rapid dispersal of the mud and mining residue will be diluted by the 'salinity and volume of water'.
Already, fisherman are seeing the results of the Fundão dam accident, with fishing being severely affected and dead fish floating to the surface of the estuary.
Top Stories:
Hwange power station experiences coal shortfall of 3 000 tpd
Mustang Resources raises US$5.75M to fast track its ruby projects
Global mining companies score low on climate risk management